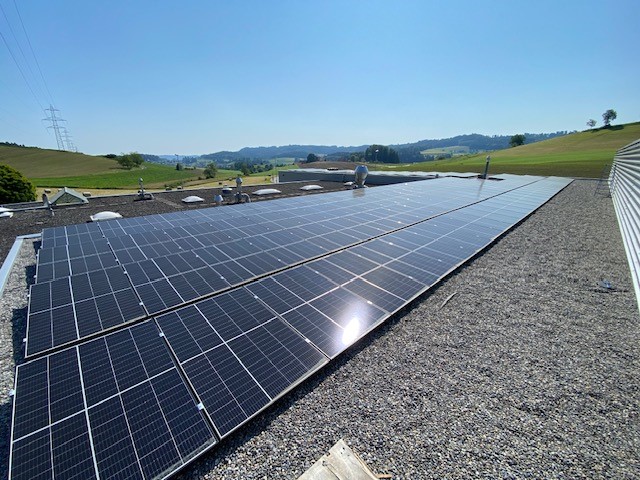 New installation in Ammerbuch set to mirror Swiss success. 
German company DC DruckChemie GmbH, a leading supplier of specialty chemicals and consumables for the world's print and graphics industries, has installed a highly successful photovoltaic (PV) power system at its Swiss subsidiary.
PV systems differ from the majority of building-mounted solar power sources in that they supply power at the utility level, as opposed to supplying local users. This is also different from what is known as concentrated solar power which uses heat to drive conventional generators. The majority of the world's utility-scale solar power capacity is actually PV.
Completed at the end of March this year, the plant in Switzerland continues to deliver environmental benefits month on month. In April alone, the installation met DruckChemie's complete Swiss electricity demand while feeding 90% of its generated power to the public grid.
As a follow-up to its pilot PV scheme, DruckChemie is now installing a similar plant near its headquarters in Ammerbuch, Germany. Roughly the same size as the Swiss power plant, it will eventually have the capacity to cover the vast majority of power consumption at Ammerbuch.
Mr Miko Kern, Managing Director of DruckChemie GmbH commented:
"As a major supplier to the print and graphics industries, we are keenly aware of our environmental responsibility to show the way forward. In the month of April alone, our new Swiss PV system generated 8.55 MWh, resulting in 3.35 tonnes of CO2 savings – the equivalent of 100 planted trees. It's exciting to know that Ammerbuch stands to deliver a similar environmental impact."
About DruckChemie
The DC DruckChemie group is a manufacturer and supplier of speciality chemicals, consumables and support services for the printing and graphic arts industries. DruckChemie was founded in 1971 in Ammerbuch, near Stuttgart, with eight products, two employees and one lorry. Today DruckChemie has facilities in 10 European locations as well as Brazil and Mexico, offering over 4,000 different products to more than 7,000 customers. In November 2014, DruckChemie was acquired by Langley Holdings plc, and is part of the group's Print Technologies Division.
---